Breakfast At Freathy Farmhouse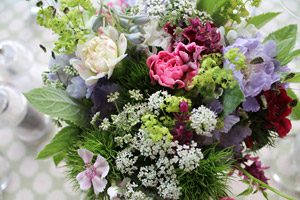 Breakfast is served……when you want it to be, after all, you are on holiday, so we think that you deserve a little pampering, therefore, within reason, we are flexible and can provide your breakfast when you feel ready to eat it. We want you to feel that you are part of the family during your stay, hence we serve breakfast in the old farmhouse kitchen around the quintessential pine farmhouse table (although Jeremy, a fine furniture maker no less, is working intensively right now, on a new somewhat larger version to replace the present incumbent). Should you feel the desire however, to languish peacefully in bed thumbing through the Broadsheets or Country Living Magazine, we are only too happy to serve breakfast in your room or outside in the garden.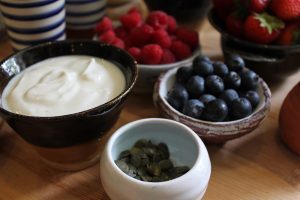 We offer a large selection including cooked breakfasts (vegetarians don't despair we can do the same for you). Continental breakfast is available, plus a bountiful combination of locally sourced, organic and fair trade products with a variety of homemade breads, jams, granola, muesli, fruit, yogurts, our own free range eggs courtesy of Hazel, Mary, Hilda, Maggie May and the girls, fresh orange juice, Lavazza gold freshly ground coffee in various guises i.e. latte, espresso, cappuccino, fresh fruit smoothies and milkshakes, and a variety of locally sourced teas and herbal infusions.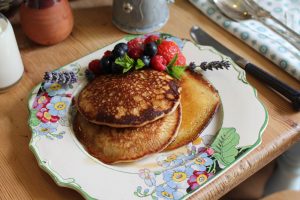 You are very welcome and even encouraged to relax in the farmhouse, use the lounge, flip leisurely through books and magazines that are dotted around, pick up the knitting that you will find here and there and add a few rows or make a jumper, settle in one of the various cosy secluded seated areas outside, disappearing amidst the flowers and birdsong, or step further out into the fields and down to the beach drinking in the hidden gem that is the Rame peninsula, surfing the amazing waves, or idling the evening away with a beachside driftwood campfire. You could even take a trip to one of the many wonderful little Cornish villages nearby, where you will often find renowned literary festivals, regattas, and boat races taking place throughout the summer such as in Fowey, St Germans, Looe, Kingsand and Cawsand where you will be able to immerse yourself in all things quaint and Cornish . Or on those autumn days, you can simply snuggle up with the cat and dogs by the AGA and drift off into cherished day dreams of a life yet to come. There is also WiFi internet access should you wish to keep one eye focused on emails etc.